A:link {COLOR: #ff6600; TEXT-DECORATION: none} A:visited {COLOR: #ff6600; TEXT-DECORATION: none} A:active {COLOR: #ff6600; TEXT-DECORATION: none} A:hover {COLOR: #ff6600; TEXT-DECORATION: none}
SMAP News - Latest Update: 06/07/1999

SMAP released their new single "FLY" on June 23rd.

SMAP's new album, Birdman (013) will also be out shortly.

Takuya Kimura is starring in a Hong Kong movie directed by Wong Kar Wai called <2056>.

SMAP will also commence their Summer Concert Tour at the end the month.

Click here for the concert schedule.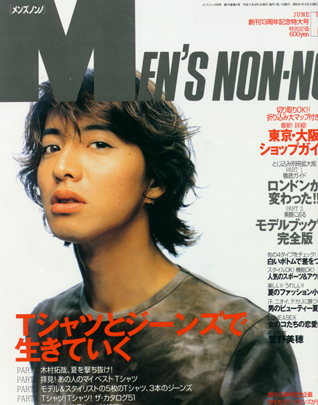 Takuya Kimura appears on the cover
of the June issue of Men's Non No magazine
Click here to see the pics of him in the magazine


Disclaimer: This is not an official SMAP site.
All pictures are copyright of their respective owners.
Best viewed with IE 4 and above.
Since 01/06/1999